- Rajesh Tyagi/ 15.2.2015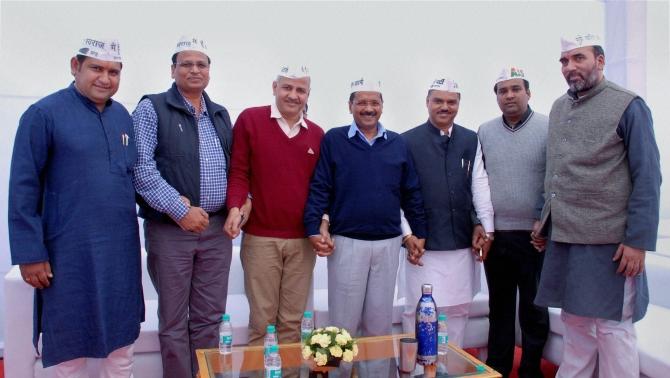 The oath taking by ministerial cabinet of AAP, in unusual mode of public ceremony, took place on Saturday, in Ramlila Maidan of New Delhi.
Unlike on the earlier occasion, last year, when the cabinet of the minority government of AAP has taken oath, this time the ceremony was marked by all fanfare, that included VIP entries and enclosures, 35 thousand seating and even more standing arrangements for visitors, blatantly contradicting and falsifying the declarations of simplicity made by AAP leaders hitherto, in this regard. While total expenses on the ceremony last year had come to rupees 14 lakh, they were in crores this year. The arrangements in ceremony were aided and funded by corporate groups like 'Pan Parag' that launched the beverage 'AAP' and served it free for all, on the occasion.
No representation in the new cabinet was given to women, despite the fact that number of women have won on tickets of AAP.
After taking oath as Delhi Chief Minister, Arvind Kejriwal, delivered a speech in Hindi, outlining the AAP government's plans.
Crediting God, for the electoral achievements of his Party, instead of his voters, Kejriwal said, "We had fallen short of a few seats (in last assembly elections), but god has now fulfilled this wish too." He further claimed, "67 out of 70 seats! This cannot be a human effort. This is nature's miracle. We have to understand what God wants us do. God wants us to do something special. We are happy God has selected us as his representatives".
Mentioning rich, separately as his voters, in class conciliatory voice, Kejriwal claimed, "The poor voted for us. The rich voted for us too".
Downplaying the real undercurrent that has consistently reflected itself into anti-incumbency against all pro-corporate governments, as a genuine answer from the working and toiling masses to the exploitative and corrupt misrule of corporate parties, Kejriwal claimed, "But when you bag such a win, people become arrogant and then everything is finished. Why did the Congress lose? Since there was arrogance. Why did people defeat the BJP? Due to its arrogance….So we have to vigilant to make sure that arrogance does not arise. Then our mission will not succeed."
Attacking his own party leaders like Yogendra Yadav, who had pushed AAP to contest last Parliamentary polls, a strategy that fell flat on its back, Kejriwal said with ostensible arrogance, "So I have heard people on TV saying that we will contest polls in four states, ten states. This shows arrogance. ….The last time we won 28 seats and arrogance arose in the party when we decided to contest across the country during the Lok Sabha and we lost. I have decided to work only in Delhi for the next five years." This was meant clearly to doubly assure the nearest rival BJP, that AAP has no intent to contest against it in future, outside Delhi, thereby reiterating its manoeuvres for longtime collaboration with rightist BJP.
Giving clear signs that the AAP volunteers, who eventually come from lower layers, would have no role to play in government functioning, Kejriwal issued stern warning authorizing policemen to 'punish', "Some doctors came to me and said people come with AAP caps and do hooliganism in hospitals….. From this dais, I want to tell all policemen that if anyone seen doing any hooliganism while sporting our party's caps, arrest them immediately and give them double the punishment."
Conscious of the fact that there is no yardstick to measure 'corruption', Kejriwal boasted of achievement of his government, that existed for 49 days last year, "During Anna's movement, we used to give slogans of corruption-free India, corruption free India. But we wondered if corruption will ever go. But during our 49-day rule, did we not end corruption?" However, in the next breath, he bagged full five year term this time for ending corruption, "We are confident that in five years, we will end corruption from Delhi. We will make Delhi India's first corruption-free state."
Immediately after it, downplaying corruption to meagre bribes by government officials, mostly clerks or low ranking officers, Kejriwal cleverly shifted the responsibility to end corruption upon the public victims "I am going to make the same announcement that I made on December 28, 2013. If someone offers bribe, do not say no. Make a setting. Record the person's voice on a mobile phone, give it to us and we will take action….We will also restart the telephone lines that had instilled fear among the corrupt."
This was apparent mockery. If the victims can audio or video tape the bribery then the offenders can be easily prosecuted under ordinary process of law, without any solicited intervention of the office of the Chief Minister.
Behind this smokescreen of high claims against bribe, Kejriwal cunningly omitted to mention the prosecution of big scamsters in political and bureaucratic establishment, who had gobbled huge amounts from public exchequer, a core promise of AAP in the last elections.
On the issue of passing the deterrent law against corruption, the much trumpeted 'Jan Lokpal Bill' Kejriwal remained evasive, "It is important to pass the Jan Lokpal Bill, but I want to request people in the media who keep asking me how soon will we pass the bill? I want to tell them that the government does not run like this. We will do it as soon as possible. But we will do everything with conviction. We will work for 24 hours."
AAP has emerged out of the largely middle class movement under Anna Hazare, which had proposed the 'Lokpal Bill' as panacea to end the corrupt misrule. The proposed Jan Lokpal Bill, that provides for the appointed bureaucrat 'Lokpal' as repository of all executive authority to curb corruption in public exchequer, has since become a subject of public mockery as "Jokepal Bill" for its ostensibly bureaucratic content and unrealizable purpose under capitalist rule. People know it by their experience that corruption is integral to the system of capitalism and cannot be ended under this system.
Dwelling on something emotional, Kejriwal boasted, "Just as the results came, we began working. I had fever. I came after taking Crocin." But as volunteers, supporters, media and voters remained in high expectation of some big and concrete declarations on poll promises, in the cabinet meeting pre-scheduled immediately after oath taking, Kejriwal left the venue for his home, cancelling the cabinet meeting on pretext of fever.
Referring to incidents of communal violence against Christians in Delhi, but evading to name the hindu-chauvinist Sangh Parivar, that is directly blamed for this criminal violence, and of which the ruling BJP itself is a part, Kejriwal resorted to demagogy, "There have been some incidents that made people of Delhi very angry. In efforts to start riots, a church was burned, some churches were set afire. We have never seen such incidents in the last 35 years. People of Delhi will not tolerate this. People of Delhi celebrate all festivals and want to live in harmony. With Delhi Police's help, we will make sure that people of all religions feel secure."
In immediate sequel to this, as a balancing exercise to appease the communal BJP, Kejriwal promised cooperation with the BJP government at the centre, saying, "I met PM Modi and said we needed their cooperation and we will also cooperate with Centre to make Delhi a better city."
Dwelling upon the fictitious issue of 'full statehood to Delhi', that promises no real benefits or change in life-conditions of millions of working and toiling people of Delhi, except more powers for the government under AAP, Kejriwal was emphatic in reassuring a close collaboration with BJP, "In every BJP manifesto, the party sought full statehood for Delhi. I told this to PM. We have full majority in Delhi and you have full majority in Centre, and if we want, we can give full statehood for Delhi. We are ready and I hope he will consider our proposal. PM is a busy man. So I told him that let people of Delhi run Delhi. This AAP government is everybody's government, if you voted for us or not. I am everybody's CM. We will serve all of Delhi."
After their electoral victory and even before taking oath, the top leaders of AAP, Arvind Kejriwal and Manish Sisodia, have undertaken an exercise to meet the core leaders of ruling BJP- Narendra Modi, Rajnath Singh and Vainkaiya Naidu to re-assure them that the AAP government has no agenda for a conflict with central government, rather it is more anxious to collaborate with it.
Not surprisingly, the Stalinist leaders of seven left parties, who had declared their unqualified support for the bourgeois party AAP, on the eve of elections in blatant betrayal of their proclamations, were sidelined and were not even invited to oath taking ceremony by AAP, avoiding the risk of wrong signal to BJP. Shamefaced Stalinists, have made no public comments since then.
While consciously omitting to say a single word on its prime promises- halving the electricity rates, free water, regularization of ad-hoc workers and abolition of contract employment in the city, Kejriwal appealed to and assured only the business community, "Some words for the traders of Delhi. We need money to run the government and I tell all traders that no department will harass you. But do give full tax."
Placing all blame on 'intent' of individuals and thereby shifting focus from the well-orchestrated pro-investor and pro-big business policies of earlier governments, Kejriwal said, "In my last tenure, I learnt that there was no dearth of money in the government. It's about lack of intentions. The money is enough for good development."
Pre-empting all criticism in advance on its shameful retreat on the issue of not accepting lavish government accommodations and luxury cars, Kejriwal was blunt in telling that this time AAP leaders would accept lavish houses and luxury cars as well. "Media will start making hoax tomorrow that Kejriwal has taken lavish bungalow and luxury car from government. I want to make it clear that I would not occupy more than 4-5 rooms, but space is needed to accommodate four to five hundred people who come to meet me. I would not take bungalow larger than that. One sage told me that wherever a man dwells, he should not forget his status. I would not forget my status as a small man, wherever I may live in." the demagogue claimed.
Asserting his commitment to collaborate with capitalist parties and their leaders, and betraying its promise to prosecute the leaders of Congress and BJP for the scams, corruption and other criminal misdeeds, a promise that AAP leaders have repeated thousand times to their voters, before and during their election campaigns, Kejriwal said, "In elections, there are winners and losers. Kiran Bedi (BJP leader) is like my elder sister. She has been a good administrator and we want to take her along in our work. We will take her guidance. We will also consult Ajay Maken (Congress leader) once in a while since he knows how to run an administration. We will work with all the good people in all parties so that poor and rich can feel proud over the city. I request god to give us wisdom."
Conscious of the fact that nothing would be left in store for the poor volunteers of the Party, after betrayal of its leaders, yet focusing only upon middle-class volunteers, chiefly shopkeepers, Kejriwal pressed into hypocrisy, "AAP volunteers are diamonds and gold and often tears come to my eyes listening to their stories. The MLAs would get ministerial posts but what did they get after shutting their shops and campaigning for us?"
Towards end of his speech, apologizing for his bad throat, Kejriwal did not forget to sing a religious prayer, that preached collaboration between social classes, leaving the poor at the mercy of the rich. The lines of Kejriwal's prayer included "Ask the palaces to lit up lamp in shanties…."
And finally came chanting of core nationalist and rightist slogans, 'bharat mata ki jai' and 'vande matarm' alongside 'inquilab zindabad', demonstrating not only ideological bankruptcy but also dubious nature of AAP itself.
From beginning to end, the speech of this bourgeois leader, was full of hypocrisy and demagogy and was crystal clear betrayal of all promises and impressions that this bourgeois party and its leaders have hitherto created in the minds of working and poor people in Delhi and elsewhere.
Immediately after the oath ceremony, and despite cancellation of the cabinet meeting, berths were allocated to six ministers constituting the cabinet, with prime of them going to elite MLAs.
Manish Sisodia, formerly associated to corporate media of Zee TV, is allocated portfolio of Deputy Chief Minister alongside education, PWD and Urban Development. Satyendra Jain, darling of industrialists in Delhi and a former technocrat with PWD, was allocated prime berths of Industries and Health both. Jitender Tomar, a former Congress leader is given home and law ministries. Gopal Rai, a former Stalinist from CPI-ML Liberation, is given transport and labour. Sandeep Kumar would handle Women and Child Welfare and Asim Ahmad Khan, Food Supplies and minorities affairs.
While the government under AAP would continue to serve interests of the rich and wealthy, like all previous bourgeois parties of its genre, ministers like Gopal Rai, would use their skills acquired in Stalinist past, to put the workers under control, preventing them from launching an offensive against capitalism and its governments.
The speech of Kejriwal and the developments after it including the composition of new cabinet, has resulted in shattering of all false hopes and illusions that AAP leaders had succeeded to sell through their clever demagogy and false promises. As the time would pass, the AAP and its government would soon find itself confronting the interests of millions of workers and toilers in Delhi. Those Stalinist leaders, who committed the ghastly crime once again by declaring their support to the party of the bourgeois, would be brought to judgment by history, even before AAP.