- Anurag Pathak/ 9.10.2017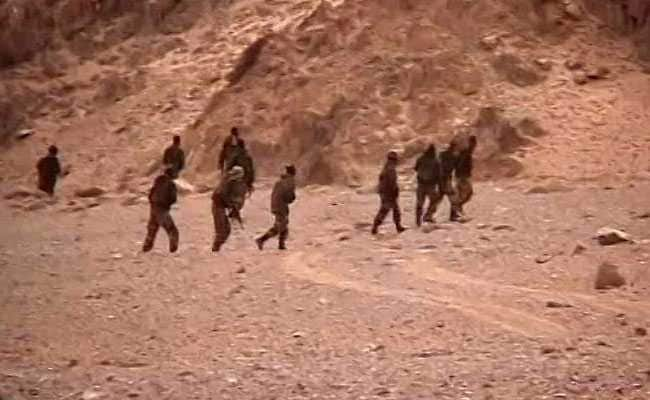 Barely a month since the stand-off with India at the Sikkim border, the Chinese army is found constructing a road on the Doklam Plateau, just 10 km from the location of the last conflict.

A shamefaced NDTV, that had joined chorus with other corporate channels a few weeks back to promote the manufactured lie that China has backtracked from Doklam, reported on October 5, "Thwarted in its last attempt, China has now shifted its unused road construction material North and East of the face-off site. Road construction workers brought into the area are accompanied by upto 500 soldiers though there are no indicators that these soldiers will be permanently based in the area - the Chinese town of Yatung, which is less than 20 km away as the crow flies, is a few hours by road and accommodates them. Neither are there signs of permanent structures to accommodate Chinese soldiers in the area which is snow-bound and bitterly cold in the winter"

The news channel however claimed the source from inside the Indian army, motivating us to suspect that the matter must be far more serious than mere construction of the road.

Within a few hours of the exposure on Thursday, the Ministry of External Affairs however repeated the same lie on Friday that there have been no new developments at the face-off site at Doklam, since Indian and Chinese troops had disengaged themselves from the conflict on border on 28 August.

Boasting of India's military power, nothing compare to China's, Union Home Minister of rightwing BJP government, Rajnath Singh on said yesterday that Doklam standoff with China was resolved because India has become a global power in recent times. Speaking at the 9th Vishwakarma Jayanothsav in Bengaluru, Singh said, "Everyone was expecting that relation between China and India will deteriorate due to the Doklam issue, but both the countries resolved the issue with comprehension." He said this on the recent developments of the Doklam issue.

Earlier on Thursday, replying to a question by media, Air Chief Marshal B.S. Dhanoa, however, confirmed, the presence of the Chinese troops in the Doklam border region.

Few weeks before, as the road construction was still going on and was paused only to permit BRICS summit falling amidst border tensions, the nationalist media hubs have made astounding claims of victory of India, asserting that China has stopped the construction of road in the region under presssure.
Indian media, referring to the 'sources' had run headlines like "China stops road construction at Doklam, say sources". The 'sources' however remain undisclosed till date as they remain always in such self-laudatory braggings by rightwing media establishment.
Built on sand a few weeks ago, all these claims stand exposed today. As China issued deadline for August 28 coupled with a warning of stern action that included vile threats of direct military incursion into Kashmir and severing off the North-East region from Indian mainland, the Indian forces withdrew from Doklam.
All these zig-zags and U-turns only demonstrate the lies which the bourgeois-led Indian state and the whole political establishment under it, is trying to propagate.

The standoff had begun in mid-June after Chinese troops had started building a road on the Doklam plateau. First, the Indian government hushed-up the whole issue under carpet, but after the issue was raised by the corporate media, the Indian government was forced to rush army units to the site. This, in turn, triggered worst military tension over last decades with China. Soldiers from both sides resorted to manhandling, pushing and pelting stones on each other.

Earlier, announcing a breakthrough, India had claimed that an understanding for truce was reached with China in diplomatic talks. "On this basis, expeditious disengagement of border personnel at the face-off site at Doklam has been agreed to and is on-going" said the Indian Foreign Ministry in a statement. In the evening, it said the "disengagement" was near completion for both countries.

Controverting it immediately, China's Foreign Ministry spokeswoman Hua Chunying however stated: "At 1430 or so on August 28, India withdrew its personnel and equipment to the Indian side of the border line." While confirming that the Chinese army's patrol in Doklam will continue, she claimed that China would make "necessary adjustments and deployments according to the changes", but without elaborating what those 'adjustments' would be.

Based only on these flimsy statements from 'sources', the Indian state and media at that time bragged for and celebrated its 'diplomatic victory' over China.

India Today, Zee News, NDTV and each and every news agency ran the headline that "China stops road construction at Doklam" and "disengagement has been completed from both the sides".

The reporting on other side of the border, however, stood in complete contrast to the claim of Indian Army. 'People's daily' the mouthpiece of Chinese government stated "India pulled back all its trespassing border personnel and equipment from Dong Lang (Doklam) region on Monday afternoon around 2:30 p.m. local time, ending a two-month military standoff triggered by India's illegal incursion. The Chinese personnel onsite have verified this situation."

The Chinese media also said "about two months ago, the Indian military trespass grossly encroached on China's territorial sovereignty, and trampled on the fundamental principles of international law and basic norms governing international relations"

The BBC, in a diplomatic cautioned move, stated: "There's no way of verifying what's happening on the ground and little detail of any concessions that either side may have made. But few doubt that the Indian government will be relieved if the stand-off is over without escalating into major military confrontation, given China's overall superiority. One question remains - Will the road that started this dispute now be built or abandoned?"

India has picked up hostility with China voluntarily by permitting itself to become a frontline state in Asia in the US 'Pivot to Asia' project aimed at isolating and damaging China. Last week, Indian Foreign Secretary Jayashanker has visited Bhutan in a joint delegation with officiating US Ambassador in India Marike Loss Karlson, to lure and force Bhutan to open it up more to become a permanent bastion of US-Japan-India encirclement of China.
Having no direct stakes of its own in Doklam, India has pressured Bhutan to give way to it to engage China in Doklam. Under the revised border agreement of 2007 between India and Nepal, that restates and reconfirms the 1949 agreement between the two, India has entered the disputed tri-junction of Doklam territory. In exchange for economic aid, so critical for Bhutan's economy, the agreement gives unbridled right to India to enter Bhutan and intervene in its border disputes even against Bhutan's will. The agreement is practically a noose around the neck of Bhutan, that reduces it to the status if an Indian protectorate. Bhutan is being dragged into the conflict and made a scapegoat in the war of big powers.
China, in turn, since the times of Mao-Tse-Tung had a long association with US led imperialist camp that carried out the bloody cold war against USSR under Stalinists. Far from being a socialist country, as Stalinists and Maoists claim, China has been the backyard of world capitalism, its workshop. It's rise as an economic power, the direct result of extreme extractions of surplus value through exploitation of its workers and toilers has put it in conflict with the US led imperialist club. India has its own reasons for hostility with China that include primarily its own aspirations for regional dominance. US hopes to exploit these reactionary aspirations of India for its own designs to encircle China from all sides.

Indian and China h
ad already
fought a devastating war in 1962 against each other.
The present standoff between the two nuclear armed countries, has escalated the tensions in the entire regions and threatens whole of Asia posing a challenge to its peace and existence.

These conflicts, far from receding in future, are bound to shoot-up. National States cannot exist without these hostilities, wars and violence.
Both India and China have their own imperialist ambitions and designs in the region. Both economies are witnessing a steep downturn amidst the global economic crisis. Both are engaged in destroying each other fueling the prospects of the war and drawing closer to it each day.

While national-states engage in reactionary hostilities against each other, the rightwing stooge media assists and trumpets for their respective national political and military establishments through false reporting, blatant lies and assertions apparently contrary to each other.

Today, bourgeois national-states are trapped into a dichotomy. On the one hand, these states themselves are solely responsible for the wars, while on the other, they are artificially trying to avoid it. They cannot, however, prevent the wars for long, as the wars do not emanate from their free will but from the global operation of blind forces of capitalism. The self-pleasing argument of liberal media that 'wars are a thing of the past' is destined to doom. The claim that the economic relations between the nations and their dependency on each other will never allow them to go on war, is a myth repudiated repeatedly since more than a century. On the contrary, 'their dependency on each other' and 'their economic relations' based on it, are the chief factors that force these nation-states to engage in violent conflicts to gain upper hand.
The task of working class is an independent international mobilization across the sectarian confines of these national states for a world socialist revolution that would wipe out the national boundaries and would put the conflicts, wars, violence to an end forever.